Meet Michael Shirley
Wednesday, February 6th, 2019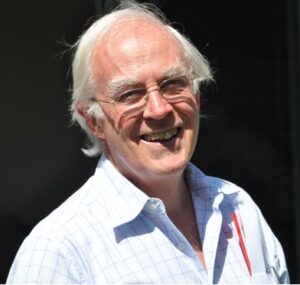 Michael's Motivation to Find a Cure for His Wife's Dementia
Michael Shirley, once a children's book publisher and owner of several childcare centres, retired early to care for his wife Bronwyn.  After she was diagnosed with dementia two years ago, he recalls the money and hours he spent buying and reading American medical texts on dementia. "There are a lot of clever people all thinking outside the square," he says of Australia's researchers. He describes being on the constant look out for an open treatment trial that Bronwyn may be able to participate in – following up leads from friends, and studying the papers daily. The concept of having all the treatment trials registered in one place on the StepUp for Dementia website is life-changing for Michael. "Bring it on!" he says.
We miss her the way she was before
Michael dismisses his contribution to research "as self-serving, to improve his life as well as his wife's".  He is grateful that Bronwyn is happy – in some respects happier than she was before developing dementia. "We spend a lot of time laughing" he says. But their family of six children and 14 grandchildren do miss the deep and meaningful conversations that they used to share with their "smart and chatty" mother.  Michael believes that seeing their mother's decline has also ignited a fear in their children of what it means to live into old age.
Maximise Hope
The treatment trials that Bronwyn has participated in have been unsuccessful thus far. "It's totally disappointing…it encourages cynicism," says Michael.  Despite this, he wants researchers to communicate hope in their interactions with participants.
What have you got to lose?
Michael says, "When researchers come up with a wonderful idea, they need to test it on someone. What have you got to lose by participating? You can't sit down and accept that this is what is going to happen." He adds, "There are a lot of clever projects being developed in Australia, a good outcome might be possible…and anyone who comes up with the answer [to how to cure dementia] will get a Nobel Prize. It will make a difference to the lives of tens of millions of people. "