What is this study about? Tele-CBT
Tuesday, February 23rd, 2021
Tele-CBT: Telehealth Psychotherapy for Anxiety in Persons with Cognitive Impairment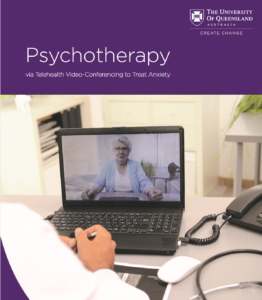 Researchers at the Dementia and Neuro Mental Health Research Unit at The University of Queensland Centre for Clinical Research (UQCCR) are looking for participants living with cognitive impairment and experiencing anxiety or worry to test a new psychotherapeutic program delivered via videoconferencing.
What are the main aims of the study?
Our study aims to test a new psychotherapeutic intervention delivered via video-conferencing to help combat anxiety and improve quality of life in people living with cognitive impairment. We also invite support persons (a care partner, spouse, family member, friend or a formal carer) to join the therapy program, as we aim to evaluate the effect on their overall wellbeing.
What does it involve for a participant?
Filling out questionnaires and participating in an online clinical interview before, and after the therapy.
Participating in weekly therapy sessions for 6 weeks delivered via video-conferencing. Each session will take up to 1 hour.
Practise techniques learnt in therapy sessions.
Give us feedback on the ease of use of technology as well as the content of the therapeutic sessions.
The participants will need an internet connection and a device to perform video-conferencing. This device can be a computer with a web camera, a tablet, iPad or smart phone.
How long is the study for?
It will take approximately 2 months for a participant to complete the whole study. The study will continue until mid-2022.
What do you hope the outcomes of the study will be?
We aim to test and evaluate a new psychological intervention delivered via telehealth videoconferencing to help alleviate feelings of anxiety and worry in people living with dementia and mild cognitive impairment. We hypothesise that practicing the techniques introduced in the program will help reduce anxiety, and will show secondary gains such as reduction in depression, stress and worry as well as improvement in quality of life, and an improvement of carer overall wellbeing.
Where is the study based?
The UQCCR, Royal Brisbane and Women's Hospital, Brisbane, QLD. However, the study is conducted solely via online videoconferencing. Participants will use zoom to connect to assessment and therapy sessions. No commute required.
If you think you are eligible to this study, please sign up today!